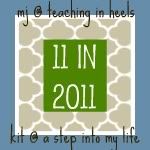 Day 6: Best Organization Tricks:
This is perfect timing, considering I just reorganized a ton of stuff in our office since our move. I would say getting bins that fit what you need, and labeling them. A few days ago, I organized all of my memories from college, high school, and our wedding into one large bin. It's crazy how much stuff we have!
Day 7: Favorite memory of 2010
It's always hard for me to pick out one of my favorite memories of a year. 2010 was a good year, but I am relieved 2011 is here. I would have to say one of my favorite memories was buying my first house together with TL. We were so excited to find our home together and it has been wonderful decorating and putting it together.
Packing up our old home
So happy/blessed to have our first home!
Big moving truck!
We're still getting all settled and decorated - can't believe we have been here for almost 6 months!
Any favorite memories of 2010?