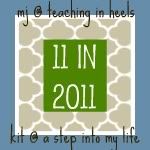 I am doing another 2 today for my lack of blogging yesterday!
Day 3: Favorite Workout Tips
Hmm... well, my best tip would be to ask people who really know. In my case, I have been relying on a few key people for advice in my training for my half marathon in March.
TL knows a lot about how our bodies work because he is a paramedic/firefighter. His best tip is to pace myself and not over do it! He also thinks the most important thing is core strength, hence the reason why I did pilates for the first time today (owww, thats hard!)
My sister, Kelly, is also a big runner and she is always encouraging me. She says a lot of working out is mental and telling yourself you can do something.
My friends, Leslee & Erin, are also very big in to running and races, and recently her big tip was to have the right shoes.
She also introduced me to this great website called dailymile.com. You set up a profile and every time you work out, it records it for you to keep track of your accomplishments. It's great!
My favorite leftovers are the ones after a turkey dinner with gravy and stuffing. Most recently at thanksgiving, my MIL made an incredible homemade turkey with all the dressings and the next day, she made us delicious sandwiches from all the cranberry, stuffing, and turkey. We ate them on the drive home and I thought they were almost as good as the dinner!
Also, there is nothing better than cold pizza! ;)
Hope you're having a great start to the week!